The way you feel about your smile can affect your level of confidence, the way you conduct yourself and how you are perceived.
Caring for your Smile
At your first visit and initial assessment, we discuss with you what you would really like in terms of your general dental care and any particular treatments you are interested in.
We involve you in all decisions and make sure that treatment is clearly explained, providing written estimates and working at a pace to suit you.
We look forward to helping you achieve the feeling of well-being and confidence that comes when you know that your mouth is healthy and you are fully equipped to keep it that way.
Oral Hygiene
At The Fountain Dental Practice we focus on preventative dental care. It may surprise you to know that the major cause of tooth loss in adult patients is gum disease, so effective oral hygiene is vital. We provide comprehensive periodontal treatment in order to protect and preserve your teeth.
Regular visits to our friendly and professional dental hygienist will help keep your teeth and gums healthy. Scaling and polishing will remove stains from coffee, tea and cigarettes so you end up with a whiter smile and your breath fresh. In addition, we will show you brushing and flossing techniques to use at home. This way you can avoid fillings, maintain fresh breath and help keep your teeth for life.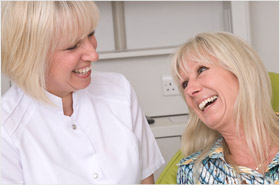 OUR SERVICES
At the practice we offer a range of dental services. We pride ourselves in exceeding patient's expectations.