Encouraging children to look after their teeth from an early age will help establish a healthy routine and minimise the need for dental treatment in the future.
We welcome children at The Fountain and the team are dedicated to preventative dental care, making treatment fun and pain-free.
Services for children include:
Mercury free white fillings
Fissure sealants to protect teeth and help prevent the need for fillings
Simple orthodontic treatment or referral to local NHS/Private Orthodontists
Oral hygiene treatment and oral health education
Sports gum shields in a wide range of colours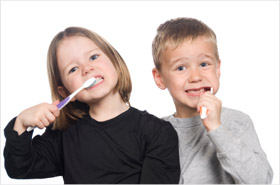 OUR SERVICES
At the practice we offer a range of dental services. We pride ourselves in exceeding patient's expectations.