Tooth whitening
Teeth yellow and discolour over the years, but staining is made worse by such things as smoking, tea, coffee and red wine. Tooth whitening gently removes stains leaving your teeth cleaner and brighter, giving a more youthful appearance.
White fillings
Many people have had (silver) amalgam fillings in the past which they now feel are unsightly. White fillings are mercury free and long lasting. They match the colour of your teeth so look completely natural and are an increasingly popular choice.
Ceramic veneers
Veneers are a simple solution for hiding imperfections such as broken, discoloured and uneven teeth. Very thin, strong pieces of porcelain are attached to the front of your teeth, perfectly colour matched to create a beautiful smile.
Ceramic crowns & inlays
Crowns are a very successful option for repairing cracked, broken, decayed or heavily filled teeth. Porcelain crowns and inlays are metal-free and so natural looking that they could be mistaken for real teeth.
Advanced bridges & dentures
If you have missing teeth you may consider a bridge, whereby one or more replacement teeth literally 'bridge' the gap. Or you may prefer the latest hand crafted dentures, which are comfortable and realistic enough to convince even the most discerning onlooker that they are viewing natural teeth and gums.
Dental implants
The permanent way to replace missing teeth, from a single tooth to a full mouth, dental implants are fixed into the jawbone and look, feel and function like natural teeth. We refer to a highly respected specialist for this advanced treatment.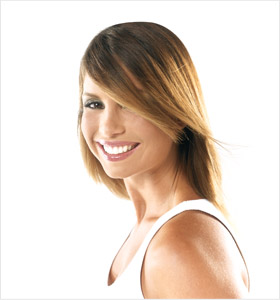 OUR SERVICES
At the practice we offer a range of dental services. We pride ourselves in exceeding patient's expectations.